In our today society, having a university degree does not guarantee you a job. In as much as education is important, spending four years obtaining a degree doesn't really guarantee a ready-made job out there.
Nowadays, you don't necessarily need to attend college to obtain a degree. You can consider getting a degree via distance learning programmes of getting an online degree in any course. In Ghana, while you might not need a degree to secure a job, you would eventually need it for career progression.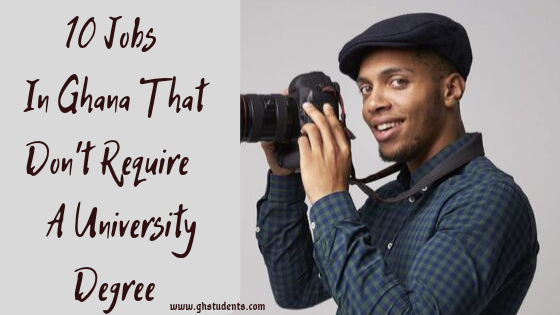 There are still several occupations in the job market that provide a great income, a positive work-life balance and a high level of satisfaction that also don't require you to follow the typical road towards a four-year degree.
-->
In this century, finding a well-paying job in Ghana is quite a different process than it was twenty years ago. Like we know, not all great jobs require a degree, it can be difficult to know where to look for a rewarding job with minimal education requirements.
So, in this article, we'll be looking at the top 10 jobs that you can secure without a university degree in Ghana.
1. Photographer/Photo Editor
Photography is one of the most lucrative jobs that you can get without a university degree in Ghana. Earning a certification in photography might look good on your CV, but there are other ways to build a career in photography.
There are some short courses in photography, you could try them in the course of your career. Some of these courses would include art, business, marketing and other courses to round out one's education.
A polished portfolio, which is often a requirement for training on photography is another benefit of taking such courses.
While some photographers enjoy successful careers in photography armed with only experience and skill, quite a number of them take courses especially those highly specialised industries, which include industrial photography, photojournalism or scientific photography.
In some cases, photographers who specialise in portrait and freelance photography acquire some degree of technical expertise through training and courses.
2. Website Designer/Developer
With more businesses going online, the demand for website designers and developers in on the increased. The job of a web designer basically is to develop and create websites and applications.
As a web designer, you can work in a variety of industries and most times as an independent contractor.
Education requirements can vary, but web designers can get entry-level work online certifications and courses.
The job description of a web developer demands that he is able to create the look, layout and features of a secure website. Good knowledge of graphic design and computer programming is needed and these can be acquired through a variety of courses that are readily available online.
Also, having a good portfolio of clients will go a long way in helping you get clients.
A web designer's job duties cover all aspects of creating a website. Your duties will include writing and editing content, web page design layout, determining technical requirements, updating websites, creating backup files and resolving code problems as they arise.
3. Freelance Writer
Freelance writing jobs are very common in Ghana. As a freelance writer, you can write for local newspapers, magazines, blogs, freelance websites and individuals depending on what their needs are.
As a freelance writer, you can be a freelance reporter or content writer. This largely depends on the role you are hired for.
The responsibility of a freelance writer is to search, build, investigate and come up with good contents. However, they usually have to be business-minded, driven and competitive because these qualities help them find work on a regular basis.
Freelance writers cover a lot of topics, subjects and specialisations; from fashion to IT, human interest, education, health, politics, entertainment, religion, sports and crime.
For freelance writers, submission of written articles does not require being physically present in an office.
It is a popular job in Ghana and does not necessarily require a degree. For writers, experience often counts more than degrees. However, it is important to take up relevant courses and training.
A freelance writer should have a good portfolio of written works; His/her writing must be compelling enough to hold many readers' attention.
4. Digital Marketer
Digital marketing is one of the most lucrative jobs that you can get without a college degree in Ghana. People who have digital marketing skills often become digital sales executives, internet marketing specialists, Search Engine Optimization (SEO) marketing specialists or digital marketing directors, among a growing list of other options.
Having additional education qualification might be an advantage depending on where you get a job. Generally, digital marketers don't need a degree to get a job, what they need is their skills.
They must possess the ability to initiate an effective marketing online campaign that will drive sells.
Those interested in digital marketing can find jobs as internet marketing specialists or online marketing managers.
5. Sales Representative
Another job that most times doesn't require a university degree is a sales representative. They help customers decide on which product to buy and encourage them to make purchases.
Their job responsibilities include interacting with customers, preparing sales contracts and maintaining sales records. Many sales representatives often spend a lot of time on their feet. In many cases, you find them putting in extra hours to meet targets.
Sales representatives are also in charge of information and communication technologies services such as registration of domains, hosting and data centre services and the setting up of corporate email accounts.
6. Graphic Designer
To become a graphic designer, you don't need a college degree. However, you can learn these skills online and get certifications.
Essentially, graphic designers work in the advertising and marketing industries, where they oversee a team that typically includes copywriters, graphic designers and account managers.
They are expected to develop and work on creative portions of advertisements and marketing materials.
7. Social Media Analyst
Another job that you could get in Ghana without a university degree is social media analyst. Social media analysts usually have a background in marketing and not do not require a degree to improve and build a company's' online presence and brand awareness.
-->
They achieve this through the efficient use of social media networks, blogs and online search engine optimisation.
As a social media analyst, you will be saddled with the responsibility of creating and maintaining a company's presence on social media sites like Facebook, Twitter and Instagram amongst others.
In some cases, you will be expected to maintain the company's blogs. You will also be in charge of increasing the company's brand exposure through Search Engine Optimization (SEO) and by finding ways to use these keywords in marketing strategies.
8. Makeup Artist
You don't need a university degree to become a makeup artist in Ghana. However, having an education qualification can help improve the way you relate with your clients.
In Ghana, professional makeup artists are in-demand mostly in the entertainment industry.
Makeup artist usually has theatrical skills as well as a deep love for cosmetics and passion to transform an art form. As long as the makeup artists are skilled in applying makeup so that performers become the character their script requires, they have a shot at the job.
9. Plumbing
Another job that you can get without a college degree is the plumbing job. All you need is to be versatile and learn the skill of plumbing.
Essentially, the duties of a plumber include installing and repairing pipes. Some construction companies employ professional plumbers who take care of maintenance.
Plumbers get their jobs through technical schools or apprenticeship training. They read blueprints, install pipes and replace worn parts.
10. Electrical Repairer
You do not need a college degree to become an electrical repairer or electrician. They gain their skills from technical schools or apprenticeship.
Electricians are responsible for wiring and fixing faulty electronics in both residential and commercial properties.
They can also carry out routine field maintenance and repair of electric equipment, wiring, and circuits in electric plants and installations.
In fact, only a few electrical repairs hold a bachelors degree, maybe B.Eng Electrical/Electronics.
Conclusion
Getting a job without a university degree is getting easier by the day. In as much as obtaining a degree is important, getting a lucrative skill is also important. Attending a university isn't actually for everyone, but everyone can carve out a niche for themselves.
Finally, the world is going digital, I will recommend you learn a digital skill in addition to whatever you're currently doing.