GES academic calendar for Kindegarten (KG), Junior High Schools (JHS) and Senior High Schools (SHS) for the 2020/2021 academic year has been released. The Authorities of the Ghaha Education Service (GES) has directed all basic schools, comprising kindergarten, primary and junior high schools in the country to strictly adhere to the calendar for the 2020/2021 academic year.
--Advertisements--
GES Academic Calendar for Basic Schools
Junior High Schools (JHS) in Ghana will from Monday, January 18, 2021, run a semester system as part of conditions for re-opening schools as a result of the coronavirus disease.
Per the new academic calendar, JHS will run the first semester from January 18 to June 11, 2021, while the second semester will start from July 6 to December 7.
--Advertisements-- -->
Pupils in Kindergarten and primary schools will, however, continue with their trimester system.
This was disclosed by the Director-General of the Ghana Education Service (GES), Professor Kwasi Opoku-Amankwa at a press conference in Accra on Monday, January 4, 2021.
"JHS will be running semester programs this time around. We will make sure that the basic protocols are observed. We will provide reusable face masks. Schools will not be available for outside activities," he said.
"They will start from January 18 to June 11 and then they will break and then they will come back for the second semester, 6th July and then write their exams. For form one and form two, 18th January to 11th June, they break, they come back for their second semester and they finish on 7th December."
The move is to enable the schools meet up with contact hours lost in 2020 as a result of the coronavirus pandemic.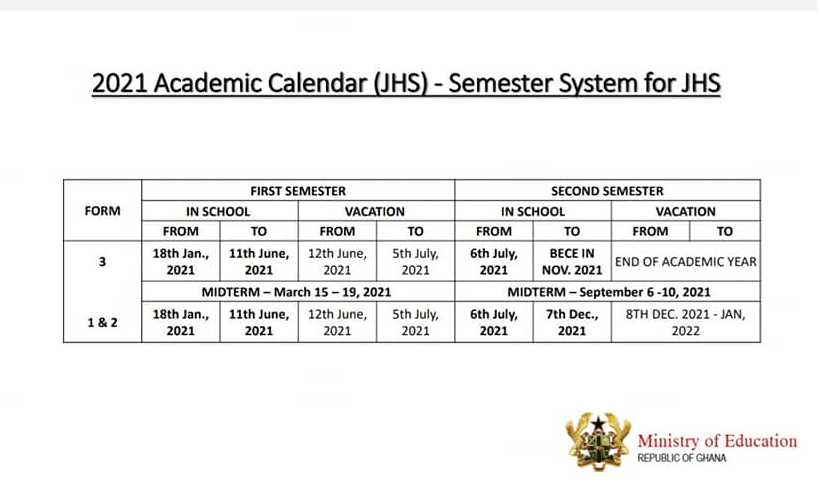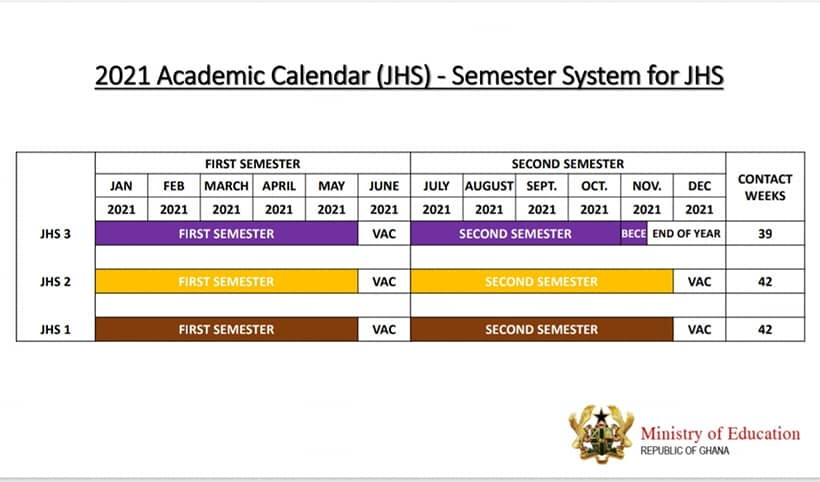 "But because this will be a long period, we have set up mid-semester breaks. So, we will have March 15 to 19, 2021 for the first-semester mid-semester break and the second-semester mid-semester break will be from September 6 to 10, 2021."
He explained further that "School will start for Primary and KG from January 18 to April 16. They will then have April 17 to May 3 as their break period. Their second term will begin from May 4 to August 6 and then they will have their break will be from August 7 to September 5. Their third term will begin from September 6 to December 10."
--Advertisements--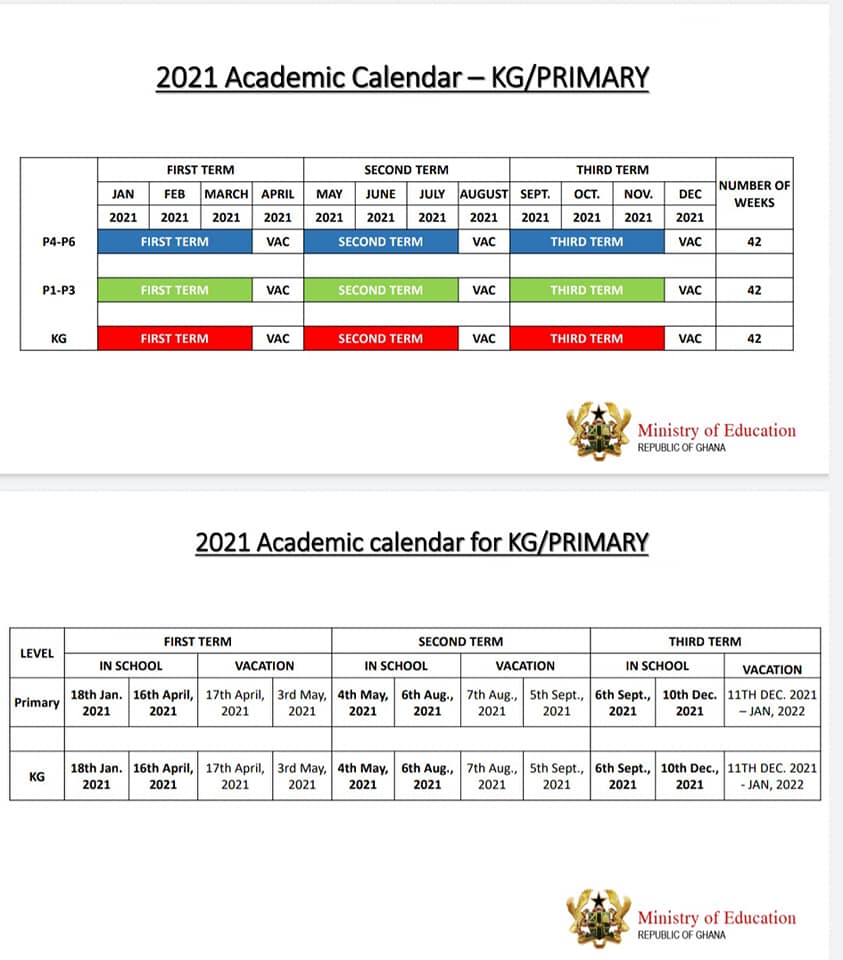 Senior High School (SHS) Academic Calendar
---
LATEST UPDATE:
Management has considered a proposal from CHASS and has therefore revised the academic calendar as follows;
Reopening for Form 3 students have been rescheduled for 5th May 2021
This applies to all Form 3 students (single track and double track schools)
Further details will be announced. All other arrangements on the calender remain unchanged.
--Advertisements-- -->
---
SINGLE TRACK SCHOOLS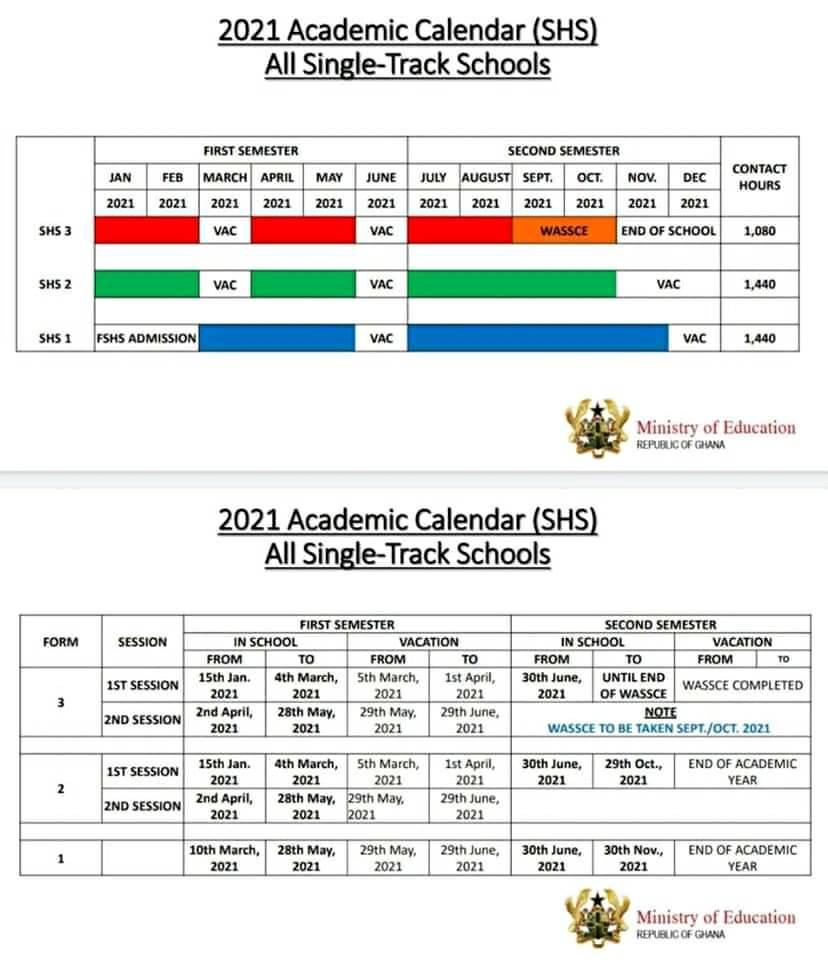 DOUBLE TRACK SCHOOLS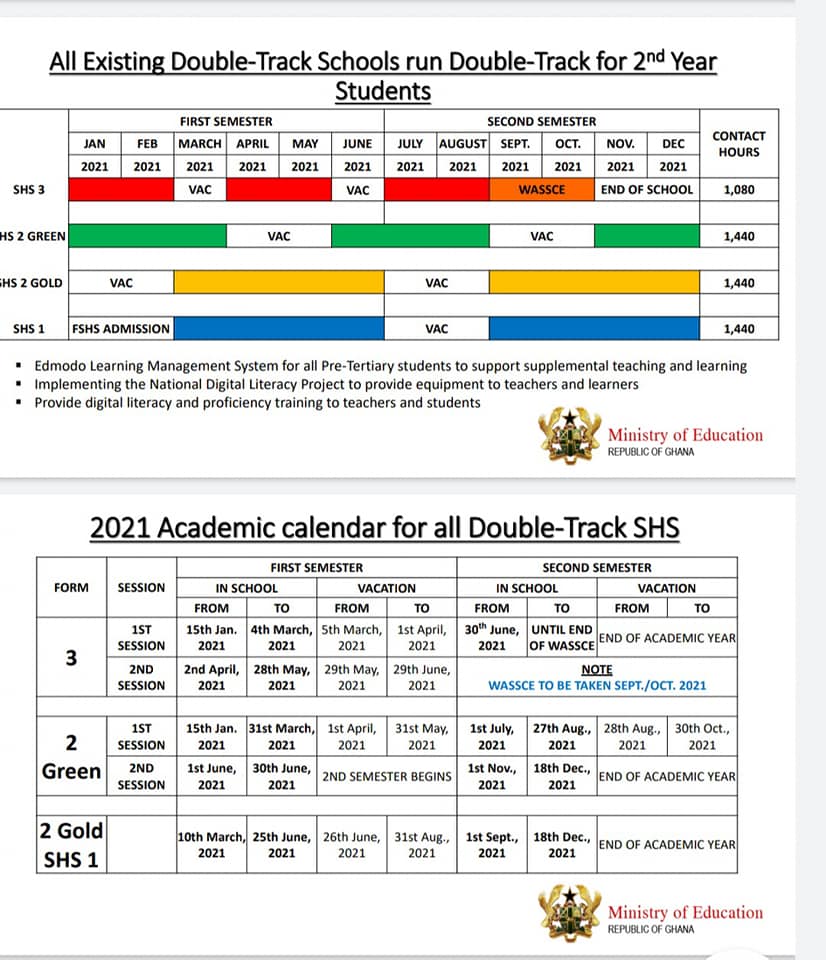 --Advertisements--
ADJUSTED ACADEMIC CALENDAR
--Advertisements--