In this guide, we will be showing you how the Computerized School Selection and Placement System (CSSPS) works.
Before we begin, please note that the portal is still under maintenance. However, according to the Ghana Education Service (GES), the Placement portal will be opened in Sunday, 28th February 2021.
The placement will cover candidates, both school and private, who wrote the Basic Education Certificate Examination (BECE) in 2020, as well as other re-entrants.
Out of 533,693 registered candidates, 494,530 qualified to be placed.
-->
A total of 343,264 have automatically been placed in one of their choices. However, 151,266 qualified candidates could be matched with any of their choices.
Once it is out you can now proceed to check your school placement.
Also, take note of the resumption dates stated below;
All SHS 1 students will start classes from 10th March 2021, with all students embarking on the single-track academic calendar.
How Does the CSSPS Placement Portal Works?
We will be explaining the working procedures of the Computerized School Selection and Placement System (CSSPS) portal.
School Placement
The CSSPS placement collects data of all Ghana students who took part in the BECE Exam and aggregate them into a ranked list.
The system uses candidates aggregate score from 6 subjects for the selection process.
Thus, English Language, Mathematics Social Studies and best two elective subject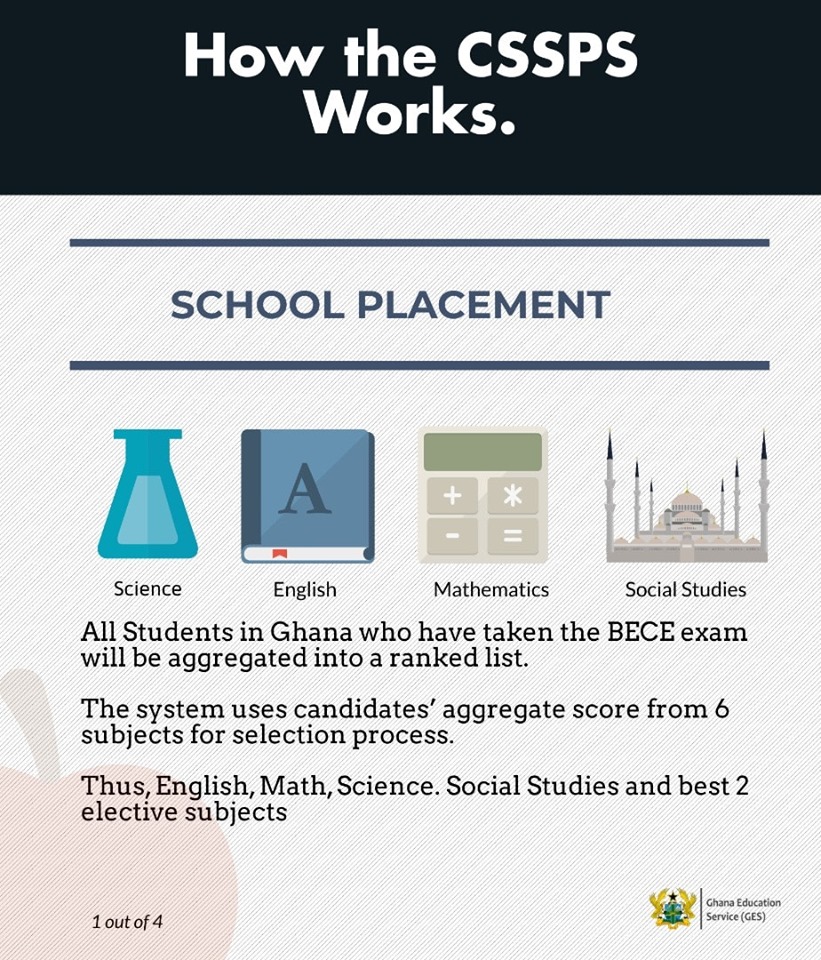 Automatic Placement System (APS)
After students have been ranked by their BECE performance, the Automatic Placement System takes charge and places students into the Secondary school of their choice.
This placement is based on Programs and Residential vacancies in various Senior High Schools, and most importantly on the performance of students in the Exams.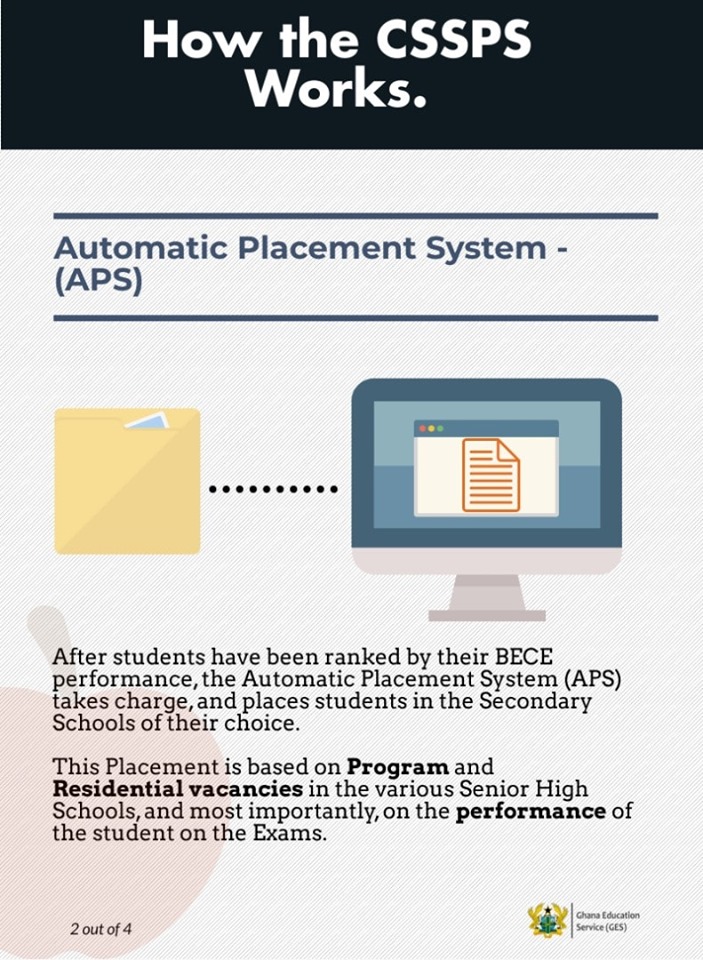 Is the Automatic Placement System (APS) Fair?
The answer is YES.
The entire system was designed to place importance on the merits of the students' performance in the examination and the availability of vacancies in the selected school.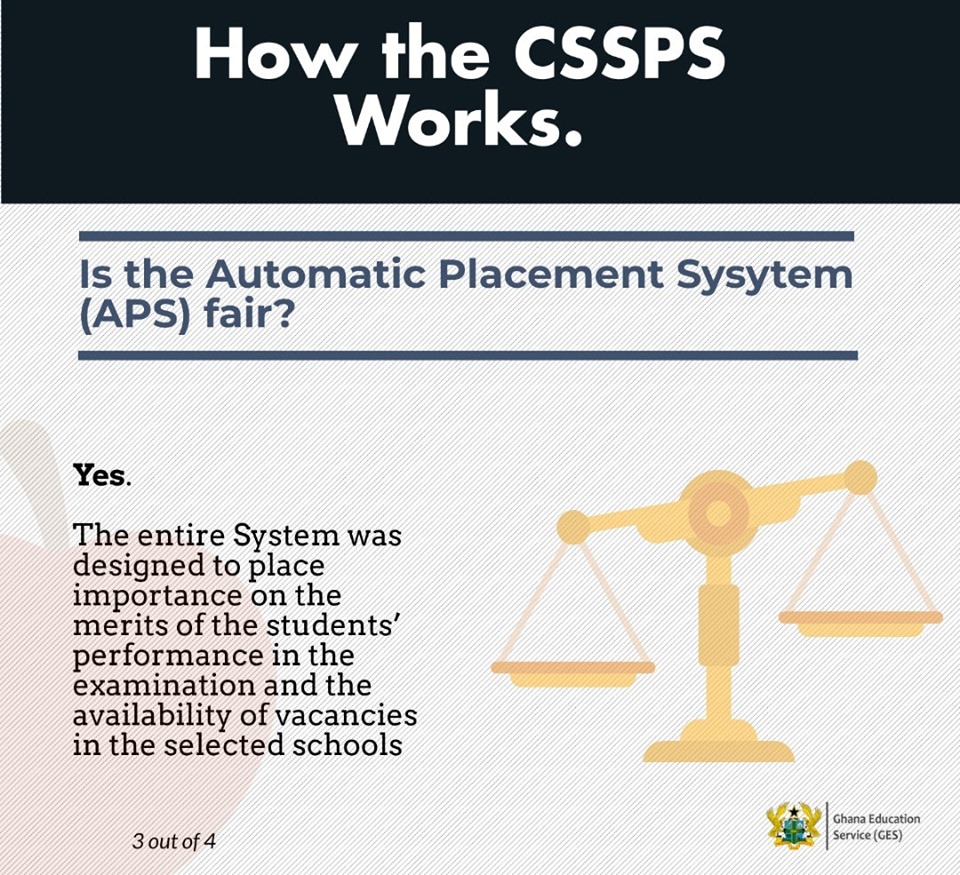 -->
Are all Qualified Students Automatically Placed?
The answer is NO.
This is because students who missed out on their five selected schools based on their performance will have to do a "Self Placement".
What is Self Placement?
Self-placement is the manual process that allows candidates who do not get any of their choices an opportunity to select among the available schools with vacancies.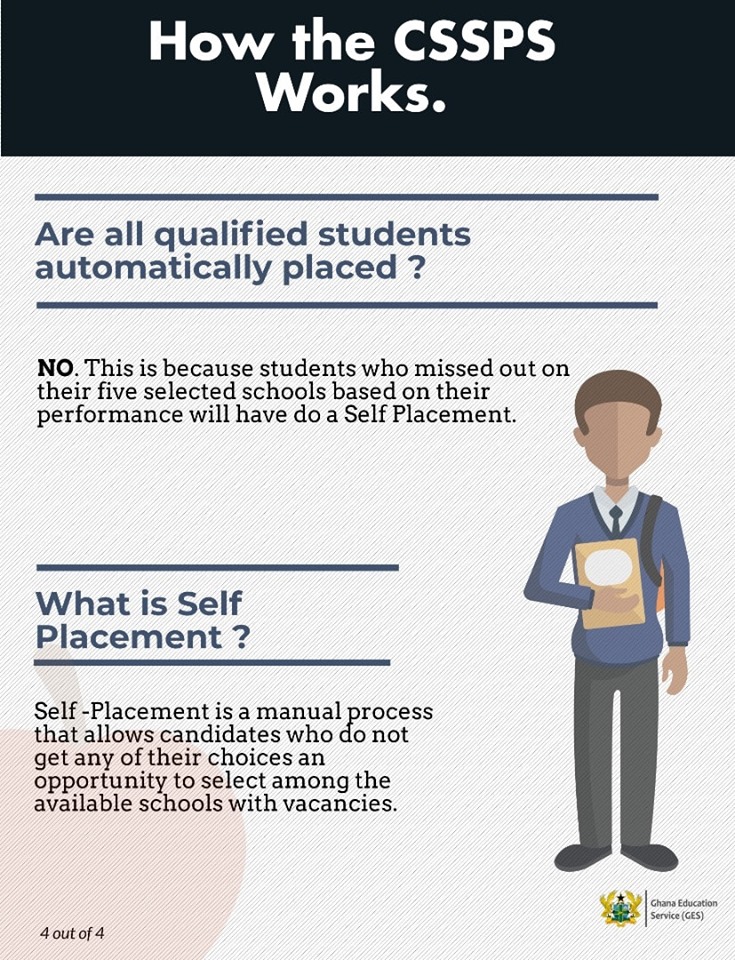 How to Pay for Your Placement E-Voucher?
To buy a voucher for placement, follow the procedures below. Importantly, you cannot check your school placement without the e-voucher.
NOTE: You are not expected to send money to anyone to helo you obtain an e-voucher. Only pass through the GES recommended channel to get your voucher.
Visit the CSSPS website www.cssps.org or cssps.gov.gh.
Follow the instructions on the page
Make payment by choosing your mobile wallet and make a payment for your e-voucher.
NOTE: Each e-voucher cost 5GHC and can be used unlimited number of times by a single student.
How to Do Self Placement
If you have not been placed automatically, simply follow the steps below for your self-placement.
Visit CSSPS website: www.cssps.org or www.cssps.gov.gh
Select check placement module on the page to continue the process
Provide your e-voucher PIN and Index Number (i.e after successful purchase in the steps above) and click on enter
You'll be redirected to the self-placement module.
Here, you'll be provided with a selection of schools to pick from based on your aggregate. Choose your desired school as well as your residential preference (day/boarding).
Finally, click on Confirm and print changes.